If you're looking for an energy efficient solution to heating your home during the winter time, radiant heating systems offer this solution. We offer a wide variety of boiler heating systems that can offer the radiant heating solution. When it comes time to replace your current heating system, we have you covered.
Versatile Radiant Heating Systems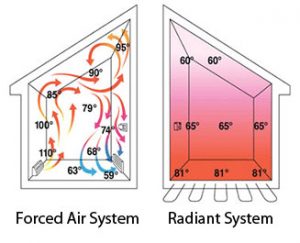 Radiant heat offers you comfort choices. Warm your entire house or just problem areas like the kitchen, bathroom, basement, and entryway. Multiple thermostats can control your comfort and your costs by allowing you to turn down the temperature in rooms that are not in use. If you want, you can even have a thermostat in every room.
Energy Efficient Boiler Heating Systems
Radiant systems are able to heat and cool using far less energy than a forced-air system, due to the use of water. You'll enjoy lower energy bills since you'll feel more comfortable at a lower thermostat setting.
Radiant heating also works in zones, so you can heat different parts of your home at different temperatures, depending on personal preference and other issues with chilly rooms. You can also save energy by setting lower traffic rooms to a lower thermostat setting.
Other Radiant Heat Systems
Snow and Ice Melting: The concept of radiant floor heating can also make driveways and walkways clean and dry during the winter, eliminating the need for salting, sanding, or shoveling. Snow and ice melt systems help lower maintenance costs, reduce dangerous accidents associated with slippery walkways, extend the life of concrete and asphalt, and eliminate disturbing noise from snow blowers, as well as the problem of tracking salt and sand into your home.

Serving the Greater Seattle area