Geothermal System Installation, Water Heater Replacement & Hot Water Heater Installation,Geothermal HVAC Service

Edmonds, WA, Shoreline, WA, Kirkland, WA, Bothell, WA, Mountlake Terrace, WA & Bellevue, WA
Want to significantly trim monthly energy bills, minimize your carbon footprint, and enjoy exceptional year round comfort? All Climate Heating & Air Conditioning offers all that and more with geothermal heating and cooling. We tap into an often-overlooked, renewable, and free energy source available in your own backyard. No matter the weather in the Greater Seattle area, the temperature underground remains constant, allowing the geothermal system to circulate heat between the earth and the home. You stand to reduce utility costs by up to 80%.
Professional Geothermal HVAC System Installations
There's no combustion process. The geothermal system simply moves heat, providing clean, quiet and consistent comfort. It's entirely safe, combats excess humidity, won't overly dry the air in winter, and pays for itself through tremendous efficiency, less maintenance requirements, and much longer service life. The materials of the underground loop are built to last for 100 years, and you can expect upwards of twenty years from the indoor heat pump. Plus, the federal government has recognized the positive environmental impact of geothermal HVAC and offers tax credits!
Heating Installation in Kenmore, WA | Geothermal System Installation Carnation, WA | Geothermal Repair Lynnwood, WA
As a Bryant Factory Authorized Dealer, All Climate Heating & Air Conditioning specializes in the installation, maintenance, and repair of geothermal systems across Redmond, Sammamish, Kirkland, Woodinville, Bellevue, Issaquah, and Carnation, WA. Family owned and operated, we continue over two decades of peerless service. Our highly trained, experienced, and motivated technicians treat you as we would our own family and friends. You can rely on us to deliver satisfaction, comfort, and value from every job. Quality You Can Feel, From A Company You Can Trust.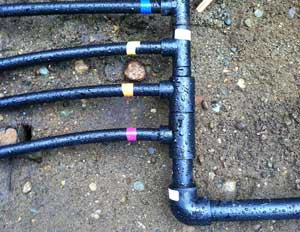 The Green Way To Stay Comfortable
At All Climate Heating & Air Conditioning, we get pretty excited about renewable energy solutions. Renewable energy refers to natural, pollution free energy that doesn't run out. Fossil fuels not only cause pollution, but they will eventually cease to exist. Sunlight and thermal energy on the other hand will be here forever. And if they're not…we'll have other problems to worry about!
We take great pride in our geothermal heating repair services. From equipment selection and system design to installation and maintenance, we make the entire process a pleasant experience, but it still will not be as pleasant as the drop in your utility bills!
How Does Geothermal Heating and Cooling System Save Money?
To answer this question, you must first understand one key point about heating and air conditioning: keeping your home comfortable is about doing one thing, and that is moving heat energy. On a warm summer day, your air conditioning system absorbs heat energy from inside your home, and dissipates into the outside air. In the winter, your heat pump, furnace, or radiant system adds heat energy back to the air inside your home.
A geothermal heat pump system from All Climate Heating & Air Conditioning is more efficient because it uses thermal energy found deep in the ground to aid in the heat transfer process. Thermal energy stays fairly consistent year round. Earth loops are buried in the ground (or water) and access thermal energy layer which makes for much more efficient heating and cooling.
Bryant Geothermal Heat Pumps
The All Climate Heating & Air Conditioning difference is that we really care about the long term comfort and energy savings of our customers. Another difference is that we build our indoor comfort solutions on the foundation of products from leading manufacturers. Our Redmond geothermal heat pump installations are no exception!
Bryant is a strong name in GHP equipment. Combine the Bryant name with the technical excellence of All Climate, and you have an all around winning solution for your home! Call us today to schedule an in-home estimate at 425-546-0161.
Why Choose All Climate?
That's a great question, and one we're happy to answer! All Climate is your finest choice for geothermal heat pump solutions in Redmond, Sammamish, Kirkland, Woodinville, Bellevue, Issaquah, and Carnation, WA because we have the technical knowledge to do the job right. We're NATE certified, a licensed Bryant GHP installer, and highly experienced in green energy products.
All Climate also stands out from the rest because we truly care about the comfort of our customers. We're not here to make a fast buck on an equipment sale. We're here long term to ensure our customers experience the finest in reliable, efficient heating and air conditioning solutions!
Geothermal Repair

∴

Heating Installation

∴

Geothermal Maintenance

∴

Water Heater Replacement

∴

HVAC Contractor ∴ Cottage Lake, WA ∴ Woodinville, WA ∴ Bellevue, WA

Serving the Greater Seattle area